Archive for the 'Montrose Avenue Railroad Bridge' Category
"follow" me on Twitter at @newtownpentacle
- photo by Mai Armstrong
Want to see something cool?
Odds are that a bunch of the folks who will be reading this might have no idea who Mitch Waxman is, why they should come along with him on a tour of some weird neighborhood in Brooklyn or Queens or Staten Island, nor what a Newtown Creek or Kill Van Kull are- let alone where. Who is this weirdo?
Check out the "bio" page here at Newtown Pentacle, or this profile of me from the NY Times published in 2012. My tours of Newtown Creek have garnered no small amount of interest from the fourth estate- whether it be DNAInfo, untappedcities.com, Queens Chronicle, newyorkview.net, the 22blog, photobycateblog.com, or Queensnyc, and I've turned up in a bunch of media reports, documentaries, and been interviewed for multitudinous reports on the lamentable history of the Newtown Creek.
Most recently, it was National Geographic and Curbed. Attendees on my tours come from a variety of backgrounds- photographers, history and rail buffs, maritime enthusiasts, and there always seems to be an odd and welcome concentration of elected officials and journalists about.
What is with this guy?
I'm the Newtown Creek Alliance Historian, Official Photographer and Steering Committee member of the Working Harbor Committee, a member of the Newtown Creek Monitoring Committee and the Newtown Creek CAG, and am also a member of the Kosciuszko Bridge Stakeholders Advisory Committee. Newtown Pentacle, this blog, has been steadily published since 2009. I live in Astoria, Queens with my wife and our little dog, Zuzu.
In just the last few years, I have exposed thousands of people to the Newtown Creek, and its incredible history. This is where the industrial revolution actually happened, along this 3.8 mile long waterway that defines the border of Brooklyn and Queens.
- photo by Mai Armstrong
In 2013, continuing relationships with Atlas Obscura, Newtown Creek Alliance, and the Working Harbor Committee (as well as friends like the Metropolitan Waterfront Alliance, and others) allow me to offer the following schedule. Live ticketing links will be made available as they come online, and all dates are subject to cancellation or rescheduling due to weather or unforeseen circumstance. There are 6 unique walking tours listed here, and one boat trip in which I will be the principal speaker.
Private tours are possible, schedule permitting, and can be arranged by contacting me here. Last year, for instance, several private University classes engaged me for a day at the Creek, as did a few private groups. As mentioned, contact me and we will figure something out if you've got a meetup group, college class, or special request.
Here then, is my official schedule as it stands right now. There will likely be a few additions as time goes on, which I will let you know about as they occur. Best to subscribe to this blog (top right, email subscription)  or "follow" me on Twitter @newtownpentacle for news.

In April, 2013- There will be a brand new tour  of Greenpoint debuted, which I call "Glittering Realms."
Glittering Realms- Saturday, April 20, 2013
Newtown Creek walking tour with Mitch Waxman and Atlas Obscura, tickets now on sale.
In May, 2013- We start off with 13 Steps around Dutch Kills, go to the Insalubrious Valley, visit DUKBO, and finish off the month with a Working Harbor boat tour.
13 Steps around Dutch Kills- Saturday, May 4, 2013
Newtown Creek walking tour with Mitch Waxman and Atlas Obscura, tickets now on sale.
Parks and Petroleum- Sunday, May 12, 2013
Newtown Creek walking tour with Mitch Waxman and Newtown Creek Alliance, tickets on sale soon.
The Insalubrious Valley- Saturday, May 25, 2013
Newtown Creek walking tour with Mitch Waxman and Atlas Obscura, tickets on sale soon.
Hidden Harbor: Newtown Creek tour with Mitch Waxman - Sunday, May 26,2013
Boat tour presented by the Working Harbor Committee,
Limited seating available, order advance tickets now. Group rates available.
- photo by Mai Armstrong
In June, 2013- We visit the Poison Cauldron, return to the Insalubrious Valley, and check out the Kill Van Kull.
The Poison Cauldron- Saturday, June 15, 2013
Newtown Creek walking tour with Mitch Waxman and Atlas Obscura, tickets on sale soon.
Kill Van Kull- Saturday, June 22, 2013
Staten Island walking tour with Mitch Waxman and Working Harbor Committee, tickets on sale soon.
The Insalubrious Valley- Saturday, June 29, 2013
Newtown Creek walking tour with Mitch Waxman and Newtown Creek Alliance, tickets on sale soon.
In July, 2013- We visit Queens's Hunters Point with a brand new tour. I might have another offering or two for you, but nothing I can speak about quite yet.
Modern Corridor- Saturday, July 13, 2013
Newtown Creek walking tour with Mitch Waxman and Atlas Obscura, tickets on sale soon.
- photo by Mai Armstrong
In August, 2013- We return to the Poison Cauldron, repeat the 13 steps, and the Kill Van Kull walks.
Kill Van Kull- Saturday, August 10, 2013
Staten Island walking tour with Mitch Waxman and Working Harbor Committee, tickets on sale soon.
13 Steps around Dutch Kills- Saturday, August 17, 2013
Newtown Creek walking tour with Mitch Waxman and Newtown Creek Alliance, tickets on sale soon.
The Poison Cauldron- Saturday, August 24, 2013
Newtown Creek walking tour with Mitch Waxman and Atlas Obscura, tickets on sale soon.
There are a few other dates coming in the fall, and a couple of more summer events which are still being discussed, but I'll let you know more about them in coming posts.
Also, I will definitely be onboard but not on the microphone during the Working Harbor Committee "Beyond Sandy" Hidden Harbor tours on Tuesday nights, all summer. Hope you can come along.
Notice: the November 9th Magic Lantern Show with 

Atlas Obscura

 is cancelled for now. We hope to reschedule for sometime during the winter. 

Observatory

, where the event is scheduled to take place, has been damaged by Hurricane Sandy and flooding.
Alternatively, it has been decided to move forward 
with this Sunday's Newtown Creek "SideTour" Poison Cauldron walking tour in Greenpoint, details are found at the bottom of this posting.
- photo by Mitch Waxman
Completing the survey of the distaff tributaries of the fabled Newtown Creek in the aftermath of the so called Frankenstorm, Hurricane Sandy, my stalwart companion Hank The Elevator Guy and your humble narrator proceeded to the heart of darkness itself, the malign English Kills which runs along the borderland of Bushwick, Williamsburg, Greenpoint, and Ridgewood.
There are few casual visitors to this spot, and those of us who are familiar with this section of the Creek make attempts to limit our exposure to it.
- photo by Mitch Waxman
Reports from those who live nearby, and don't enjoy the measured luxury of choosing how often to breathe the unique perfumes of English Kills, indicated that significant flooding occurred here. The water was meant to have infiltrated out from the bulkheads, overflowing the tracks of the LIRR's Bushwick Branch, and onto both Morgan and Johnson Avenue.
- photo by Mitch Waxman
The shells of bivalves were extant upon the moist ground. Can it be possible that they were deposited by the tidal surge? One thing which should be noted is that the smell one normally associates with this area, something not dissimilar to a turtle's aquarium tank, was absent. Everything smelled… well, wet.
Only way to describe it.
- photo by Mitch Waxman
Everywhere that I've seen exposed rail tracks around the Creek, they all exhibit this fresh patina of orange corrosion. Causation does not equal correlation, however, if you were to compare them to the shots in the Newtown Pentacle posting from March of this year "approaching locomotive" you will notice a distinct change in color which your humble narrator would ascribe to immersion in brackish water.
- photo by Mitch Waxman
The water in English Kills, as always, was horrible to behold. It was a bit murkier than usual, as would be suspected, and a large amount of floatable trash was observed. Again, not unsurprising. There is a reason that my old pal Bernie Ente called this spot "the heart of darkness" and why I use "gods gift to pain".
- photo by Mitch Waxman
This is a pretty well established spot for homeless shanties and sometimes full blown camps to be established. It's hidden and far enough away from "civilization" for no one to complain about a camp fire, after all.
This shanty was smashed, no doubt by heavy winds.
- photo by Mitch Waxman
The CSO at the end of the Newtown Creek's furthest extant. One can only imagine what was erupting from it during the storm surge.
- photo by Mitch Waxman
The larger Homeless shanty dwelling atop the CSO seems to have survived the storm, and they are flying the flag.
Notice the storm debris hanging from the plants along the banks, no doubt left behind as the waters receded, sucking along anything that was submerged or floating in it on the way back into the waterway.
- photo by Mitch Waxman
Your humble narrator has been in contact with certain members of the government about oil sheens and petroleum residues observed around the Newtown Creek on this survey. They assured me, and asked that I pass along that they will be back on the beat with us as soon as they clear up the disastrous situation in the Rockaways, Staten Island, and especially the Arthur Kill. They have asked that if anybody in the area spots oil, especially after the coming storm on Wednesday, that you call the NYS DEC Spills Hotline, open 24 hours a day at 1-800-457-7362.
Tomorrow, I'll be tying things up with a visit to Greenpoint and Hunters Point made on Saturday, sans the services of Hank the Elevator Guy.
Upcoming Newtown Creek tours and events: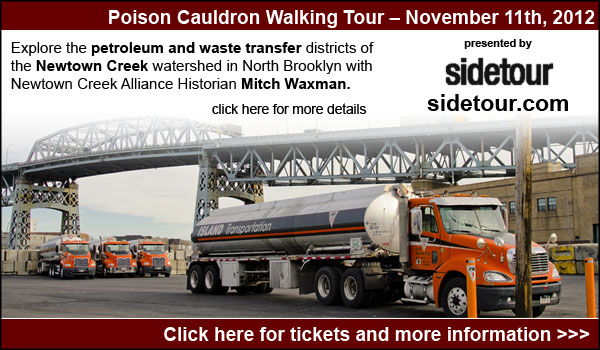 Note: there are just 4 tickets left on this one, which is likely the last walking tour I'll be conducting in 2012.
for an expanded description of the November 11th Newtown Creek tour, please click here
- photo by Mitch Waxman
On Morgan Avenue in the ancient section of industrial Brooklyn, not far from the legendary heart of darkness which is the English Kills tributary of the Newtown Creek, there may be observed a rail crossing. Part of the so called LIRR Bushwick Branch, recent opportunities have allowed me to fill in a missing piece of the great puzzle.
from wikipedia
The Bushwick Branch, also called the Bushwick Lead Track, is a freight railroad branch that runs from Bushwick, Brooklyn, to Fresh Pond Junction in Queens, New York, where it connects with the Montauk Branch of the Long Island Rail Road. It is owned by the LIRR but operated under lease by the New York and Atlantic Railway, which took over LIRR freight operations in May 1997.
- photo by Mitch Waxman
By no means should it be inferred that any special knowledge of the history of street grade rail in Brooklyn is possessed by your humble narrator, as this is still a subject under study around Newtown Pentacle HQ. If you were to look left (or south west) while on Morgan Avenue and traveling northward, this is what you'd see, way back here in the Cripplebush.
from wikipedia
East Williamsburg is a name for the area in the northwestern portion of the borough of Brooklyn in New York City, United States, which lies between Williamsburg, Greenpoint, and Bushwick. Much of this area has been and still is referred to as either Bushwick, Williamsburg, or Greenpoint with the term East Williamsburg falling out of use until the 1990s. East Williamsburg consists roughly of what was the 3rd District of the Village of Williamsburg and what is now called the East Williamsburg In-Place Industrial Park (EWIPIP), bounded by the neighborhoods of Northside and Southside Williamsburg to the west, Greenpoint to the north, Bushwick to the south and southeast, and both Maspeth and Ridgewood in Queens to the east.
Although the City of New York recognizes East Williamsburg as a neighborhood, there are no official boundaries to East Williamsburg since the City only officially delineates Community Districts and Boroughs, not neighborhoods.
- photo by Mitch Waxman
Looking right, or north east, you'll see what appears to be a locomotive right of way that terminates at a distant green wall. The Bushwick line has been explored by many others who are braver of heart than I, including Diego Cupolo and Forgotten-NY's own Kevin Walsh. There's a missing piece in their accounts (which to be fair, has been off limits to inspection by passerby for some time), however, which recent serendipity allows me to bring to you.
This is, after all, part of Newtown Creek.
from The Eastern District of Brooklyn By Eugene L. Armbruster, via google books
BEYOND THE NEWTOWN CREEK
In the olden times the lands on both sides of Newtown Creek were most intimately connected. County lines were unknown, the creeks were dividing lines between the several plantations, for the reason that lands near a creek were taken up in preference to others, and the creeks were used in place of roads to transport the produce of the farms to the river, and thus it was made possible to reach the fort on Manhattan Island.
The territory along the Newtown Creek, as far as "Old Calvary Cemetery" and along the East River to a point about where the river is now crossed by the Queensboro bridge and following the line of the bridge past the plaza, was known as Dutch Kills. On the other side of Old Calvary was a settlement of men from New England and, therefore, named English Kills. The Dutch Kills and the English Kills, as well as the rest of the out-plantations along the East River, were settlements politically independent of each other and subject only to the Director-General and Council at Manhattan Island, but became some time later parts of the town of Newtown.
- photo by Mitch Waxman
An obsession of mine, let's just name it a calling, is to photograph every possible corner of the Newtown Creek watershed.
Challenging, most of the shoreline is under lock and key, and many parts of it are under strict supervision by security personnel and police authorities. The spot these shots were gathered from is even hazy ground, and although I never stepped on the tracks and stayed to the extreme sides of the pathway, I was probably violating a "no trespassing" rule which I wear on my sleeve.
The presence of graffiti and a largish homeless camp I know to exist back here made me feel that any rule against taking a look around is lightly enforced by the gendarme and the proverbial dice would be thrown.
Speaking of dice, a locally famous accident occurred on the Bushwick line back in 2004.
from ntsb.gov
LIRR 160 traveled about 1.2 miles on the Bushwick Branch, passing over seven passive highway/railroad grade crossings. The event recorder indicated that the locomotive traveled the total distance of about 11,692 feet (2.2 miles) in 16 minutes 9 seconds and reached a maximum speed of about 31 mph.
During the runaway, LIRR 160 struck an automobile at one grade crossing and pushed it several hundred feet. The two occupants of this vehicle sustained serious injuries and required hospitalization. At another grade crossing, the locomotive struck two more automobiles, resulting in serious injuries to their drivers, who also required hospitalization. Two trucks were parked along the tracks near another grade crossing. The locomotive struck the trucks and pushed them about 800 feet westward beyond the crossing before it stopped. One of the trucks was carrying welding supplies, including acetylene and oxygen cylinders; the cylinders were damaged during the accident and caused a fire. The trucks were unoccupied; however, employees of the trucks' owner had to jump away from the track to avoid injury.
As LIRR 160 collided with the automobiles and trucks, the struck vehicles were propelled in different directions and struck other vehicles. As a result, the accident damaged five other vehicles and a backhoe.
- photo by Mitch Waxman
Speaking of graffiti, these puzzling bits of signage were observed on a well painted wall. Like the "God's Gift to Pain" graffiti at the end of English Kills, however, they filled me with some nameless dread.
from wikipedia
The first recorded use of the A in a circle by anarchists was by the Federal Council of Spain of the International Workers Association. This was set up by Giuseppe Fanelli in 1868. It predates its adoption by anarchists as it was used as a symbol by others. According to George Woodcock, this symbol was not used by classical anarchists. In a series of photos of the Spanish Civil War taken by Gerda Taro a small A in a circle is visibly chalked on the helmet of a militiaman. There is no notation of the affiliation of the militiaman, but one can presume he is an Anarchist. The first documented use was by a small French group, Jeunesse Libertaire ("Libertarian Youth") in 1964. Circolo Sacco e Vanzetti, youth group from Milan, adopted it and in 1968 it became popular throughout Italy. From there it spread rapidly around the world.
- photo by Mitch Waxman
The icon in the tree part of this illustration is meant to be an "anarchy" symbol, but to me it looked like some multi lobed eye, if you know what I mean. Weird things go on around here, and this is no safe place, even while the radiant attentions of the burning thermonuclear eye of god itself are shining down upon the poison shores of English Kills.
from wikipedia
The "three-lobed burning eye" is one of many manifestations of Nyarlathotep, a messenger of the Outer Gods, from fiction penned by H. P. Lovecraft. This particular manifestation is a huge bat-winged creature, with a burning tri-lobed eye. In Lovecraft's story "Haunter of the Dark," the character Robert Blake discovers a Shining Trapezohedron in a church steeple in Providence, RI, a place of worship for the Church of Starry Wisdom cult. Narrowly escaping an unseen horror released by the Trapezohedron, Blake realizes the horror can only travel in the dark. When a storm and power blackout envelop the city, he scribbles down his findings, concluding the story with his terrified record of what he can only glimpse of the approaching beast. "I see it– coming here– hell-wind– titan-blur– black wings– Yog-Sothoth save me– the three-lobed burning eye…"
- photo by Mitch Waxman
Speaking of English Kills, this is the rail bridge which the tracks of the Bushwick Branch utilize to cross over it. In the background of the shot is one of the largest CSO outfalls in New York City and behind that is an access a ride parking depot and Johnson Avenue.
This is what it looks like from the water, incidentally, and long have I desired to see the New York and Atlantic crossing it from this perspective.
from habitatmap.org
Combined Sewer Outfall – Newtown Creek 015
Address Johnson Ave., Brooklyn, NY
Neighborhood Newtown Creek
Owner/Occupant NYC DEP
Location Details Combined Sewer Overflow Outfall NC-015:
discharges 344.4M gallons per year into English Kills
Tier 2 outfall
Ranked 20 out of over 400 in terms of volume
located at Johnson Ave
- photo by Mitch Waxman
The bridge, which I've always heard referred to as "The Montrose Avenue Rail Bridge" is found some 3.8 miles from the East River, and regains land on the eastern shore of English Kills. Notice the green gate visible in the shot above.
from bushwickbiennial.com
James Riker's 1706 "Bushwicklands" were separated from the original het dorp site by the estuary wetlands that would evolve from a creek into fetid industrial transportation canals (from the Dutch kil, trans. "body of water"). As the old farms were surveyed and sold as city-block lots, area borderlands became an underbelly serving the 19th century constructions of the "English Kills Canals," the "Town of Bushwick" to the south, and the westerly "Village of Williamsburgh." Becoming an offal zone for breweries, slaughterhouses, & chemical manufacturing, glass, rope & bag factories, and coal, oil, & stone distribution: the flatland meadows and canal basins provided business opportunities for waves of 19th century Central European immigrants that was near, but away from, metropolitan domestic life down Bushwick Ave.
- photo by Mitch Waxman
Here is that same gate, from the perspective of the trackway. The property behind that gate is the Waste Management Varick Avenue site, which is pretty much off limits. The fabled garbage train begins its journey to the continent here, as the Varick Avenue facility handles much of the putrescent waste produced in Brooklyn.
from wikipedia
Waste Management, Inc. (NYSE: WM) is a waste management, comprehensive waste, and environmental services company in North America. The company is headquartered in Suite 4000 at the First City Tower in Downtown Houston, Texas, in the United States.
The company's network includes 367 collection operations, 355 transfer stations, 273 active landfill disposal sites, 16 waste-to-energy plants, 134 recycling plants, 111 beneficial-use landfill gas projects and 6 independent power production plants. Waste Management offers environmental services to nearly 20 million residential, industrial, municipal and commercial customers in the United States, Canada, and Puerto Rico. With 21,000 collection and transfer vehicles, the company has the largest trucking fleet in the waste industry. Together with its competitor Republic Services, Inc, the two handle more than half of all garbage collection in the United States.
- photo by Mitch Waxman
Speaking of Waste Management, the serendipity mentioned above involved your humble narrator joining with a group of students on a tour of the facility, and this is what the rail bridge looks like from the other side of the gate.
Welcome to the unknown country.
from dot.ny.gov
Waste Management has a substantial waste transfer operation located on English Kills upstream from the Metropolitan Avenue Bridge, incorporating all of the east side of the English Kills from Ten Eyck Street to the LIRR bridge near the head of the creek, an area of 24.7 acres. Currently, Waste Management uses the site to transfer commercial and residential refuse to trucks and rail for transport to landfills in New Jersey, as well as to store and maintain their trucks.
- photo by Mitch Waxman
Another posting coming in the near future will discuss the interior workings of this place, but for now, here's where the Bushwick branch tracks continue on their course. This is where the folks at Waste Management containerize and load up the "garbage train".
from nytimes.com
For decades, as trash has made its way from transfer stations in Brooklyn to out-of-state landfills, it has been shuttled through the borough's streets on ground-rattling, smoke-belching tractor trailers.
The result: irritated neighbors and polluted air.
On Wednesday, Mayor Michael R. Bloomberg unveiled a plan to replace those trucks with trains. The city will now transport tons of garbage out of Brooklyn via railroad, which will take thousands of trucks off the street.
Speaking at a trash transfer station in North Brooklyn — with a trash-filled train behind him — Mr. Bloomberg said that the change would eliminate about 13,000 truck trips a year, helping the city meet ambitious goals for cutting carbon emissions.
- photo by Mitch Waxman
The tracks continue northeast across the property, and towards Varick Avenue. They cross Varick at Grade, and continue on their winding course toward the Fresh Pond depot, crossing Flushing Avenue in Maspeth and meeting connections toward Long Island City not far from Rust Street. This Rust Street connection offers access to the tracks which follow Newtown Creek through West Maspeth, Berlin, Blissville, and terminate ultimately at Hunters Point. Once, they carried cargo all the way to the East River, where Gantry Docks loaded them onto float barges for delivery in Manhattan and beyond.
from prnewswire.com
While many people balk at taking out the trash, it's a job that the New York & Atlantic Railway does gladly — hauling 1.7 million pounds of residential and municipal waste each day, destined to Dixie in sealed containers riding aboard extra-long flat cars.
Monday through Saturday, a NY&A train crew goes over to the Varick Avenue transfer station in East Williamsburg, Brooklyn, where they couple up with 10-to-12 89-ft. flat cars loaded with up to 48 22-ft. long containers. Each has been stuffed with 18 tons of refuse, collected from homes and businesses in North Brooklyn.
The Varick Avenue facility was redesigned recently to accommodate rail shipments. It is owned and operated by Waste Management Inc. — one of the nation's leading transporters and processors of municipal waste. NY&A began test movements in late January and handled its first regular shipment on February 16, 2009.
- photo by Mitch Waxman
This is the view from inside the gates on the Varick side of the Waste Management property…
- photo by Mitch Waxman
And this is the reversed POV, shot through a gap in the fence on the sidewalk.
- photo by Mitch Waxman
The line continues on the other side of Varick, in the distance, you can see the Scott Avenue Footbridge.
This "trainsarefun.com" page offers detailed schematics and historic shots of the Bushwick line, which are certainly worth a moment of your time.