new equilibrium
Friday
– photo by Mitch Waxman
A final post from a 72 hour visit to Burlington, Vermont. When we were looking for a place to shelter from a passing storm, I spotted this Vermont Railway facility, and an associated waterfront pathway leading to the "Roundhouse Park" and "Pine Street Barge Canal."
That's a railyard, a sewer plant, and a rail road transfer crane for me. I'd already been in two cemeteries and on a boat as well. Serendipity and Joy!
– photo by Mitch Waxman
The sky started getting pretty interesting about an hour before sunset. When you see beams of light emanating from the clouds, and Charlton Heston isn't walking around in woolen robes and wearing a beard, it ain't god – instead it's an atmospheric effect called "Crepuscular Rays."
One made his way down to the waterfront, deployed the gear, and got busy.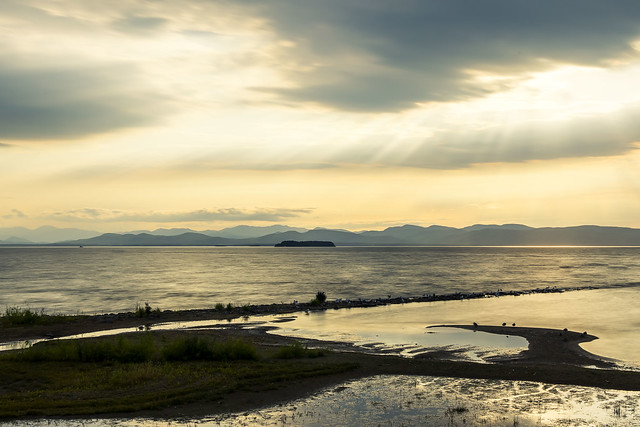 – photo by Mitch Waxman
The waterfront paths I was shooting from were created beginning in 1981 under the leadership of then Mayor Bernie Sanders. The intent of the municipality was to convert the abandoned industrial waterfront over to something more natural and ecologically sound. At the same time, the post industrial waterfront's building stock was either demolished or converted to other uses. Burlington used to be a major player in raw timber.
The iron road was (and sort of still is) located right on the shoreline. A large amount of money is currently being spent on renewing the Lake Champlain trackage and I keep on finding mentions of the intention of reactivating and routing Amtrak service to Burlington proper, rather than to Essex Junction.
– photo by Mitch Waxman
The Rutland Railway is remembered largely for the curious case of Phineas Gage, whom we've seen a photo of at one time or another. Gage is the railroad worker who had a crowbar blasted through his head in Cavendish Vermont, and lived. He's still discussed by neurologists and other medical people, and his case revealed a lot to their forebears about how the circuitry of the human brain actually operates. Who knew?
The other thing that the Rutland Railway is remembered for is the bankruptcy that ended its operations in 1963, whereupon the Vermont Railways outfit was opened for business in 1964 which bought the Rutland Railway's assets. The State of Vermont purchased some of the tracks at the time, which Vermont Railways has since compensated the tax payers for. An intermodal local railway, Vermont Railways does freight, mainly, notably transporting rock and minerals. It's tracks are used for passenger service by Amtrak. They operate in Vermont, and parts of New York State.
– photo by Mitch Waxman
Forty years ago, this area looked like every other post industrial waterfront in America. Abandoned and collapsing docks, industrial gew gaws and leave behinds rotting away, slicks of oil and sewage… basically a smaller version of Newtown Creek or Gowanus Bay.
All it took was will.
– photo by Mitch Waxman
Our 72 hours in Burlington coming to a close, it was time for a humble narrator to get annoyingly anal retentive back at the hotel. Checklists! Had to pack up the camera, all of the gear associated with it needed to be carefully berthed and tied off, and we had to pack up the clothing and other junk we needed for our trip. Our Amtrak train was leaving from Essex Junction, about a thirty minute drive, at 9:44 a.m.
We grabbed breakfast at the hotel's breakfast buffet, hoisted our bags on our backs, and we were off for Essex Junction and the long ride down a sloping hill carrying us back to a dystopian hellscape called New York City.
---
"follow" me on Twitter- @newtownpentacle
---
Buy a book!
"In the Shadows at Newtown Creek," an 88 page softcover 8.5×11 magazine format photo book by Mitch Waxman, is now on sale at blurb.com for $30.
5 Responses