Archive for August 24th, 2018
No matter where you go, there you are.
– photo by Mitch Waxman
One spends a great deal of his time gazing in wonder and astonishment at the City of Greater New York, and no place moreso than Astoria here in the Borough of Queens. When I mention Astoria to people who live in other boroughs, they immediately go to the "Greek" thing, but whereas we still have a substantial Hellenic population hereabouts it ain't the 1970's no more. In my observation, there really isn't a single dominant group in Astoria anymore, unless you start lumping folks together into "racial" groupings like "Latino" or "Black" or "Asian" or "European." It's a fairly unsophisticated way to look at people, in my opinion, using this sort of categorizing. One such as myself prefers to see people as individuals rather than as part of a cultural or socioeconomic super group, but I am famously not enamored with identity politics.
I guess it's human nature to try and stick strangers into a tribal box, and define them by where they're from. For the identity politics crowd, this means that they're constantly surprised when assumptions about some stranger's politics or lifestyle don't turn out to be true. Identity politics are ultimately "nationalism" when you get down to it, just on a different side of the aisle from what you'd normally associate with the term. I find it dehumanizing when somebody categorizes me as "Jewish" or "a Yank," and try not to do it myself. As I tell people constantly, it's "way down the list" when I'm describing someone whom they like to noodle with or where their family is from.
– photo by Mitch Waxman
Breaking into ever smaller groups seems to be the fashion at the moment, however, and folks do it to themselves. This sort  of fragmentation works beautifully for the political establishment, and allows them to target either the "one legged transgender Peruvians" or "three eyed second generation Lebanese home owners" vote during election season. Are you a white small business owner who fears clear blue skies since you have been selling umbrellas since 1987 on Steinway Street? A woman of color who receives too much mail? A non binary gender neutral hog butcher disturbed about the new LED street lamps? Like riding bikes? How about a shepherd in traditionally male dominated field who has become separated from one of your charges?
Don't worry Little Bo Peep, I've proposed legislation in the Assembly to place a non GMO fed and cruelty free chicken specifically in your pot. Me, I'm a "big tent" kind of guy. What have we got in common, and why is it so hard to resist it when a politician insists on using our divisions to distract and work us?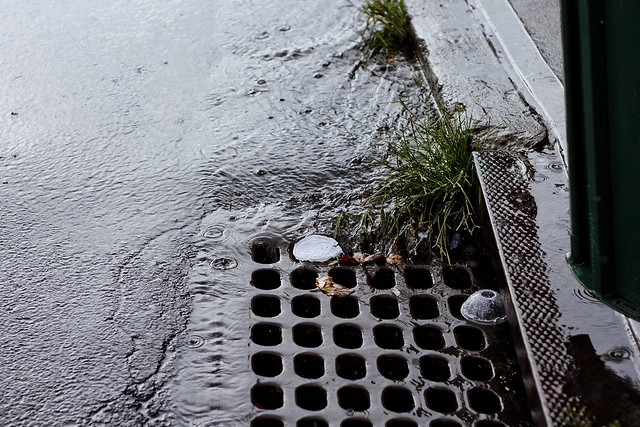 – photo by Mitch Waxman
Bah. Old man shakes fist at cloud, right? 
Kids these days.
---
Tours and Events
---
Canal to Coast: Reuniting the Waters Boat Tour. Only $5!
Thurs, August 30, 2018, 6:30 PM – 8:30 PM with Waterfront Alliance
Learn about the origins of Brooklyn's Erie Basin as the Erie Canal's ultimate destination, and its current role as a vital resource for maritime industry on this guided tour of Red Hook's Erie Basin and the Brooklyn working waterfront, departing from and returning to New York Water Taxi's Red Hook Dock. Tickets here.
---
"follow" me on Twitter- @newtownpentacle