allegheny observatory
Thursday
– photo by Mitch Waxman
According to every authority I could find, the highest point in Pittsburgh is 1,223 feet above sea level and it's at the Allegheny Observatory, on Pittsburgh's north side. Saying that, there's supposedly another spot up here that's higher – 1,370 feet at Brashear Reservoir, but I didn't know that when I came to the observatory. Next time, I guess.
Having accomplished all of my have-to's during the prior day, I set off in the car to experience this prominence. It was about a twenty minute drive from our new HQ location in Dormont to get there.
One of the nice things about Pittsburgh is that if something is only 15 miles away, you don't have to prepare for three to five hours of travel time due to the chronic bullshit of MTA, nor to compensate for the average traffic speed in NYC of 4.1 mph.
– photo by Mitch Waxman
Operated and owned by the University of Pittsburgh, this 1912 building is the second observatory to stand here, with the first one having been erected in 1859. The institution supported itself historically by supplying telegraph transmitted chronology information to the Pennsylvania Rail Road and other national level carriers, a service which became known as "Allegheny Time" which the far flung network of rail would use to synchronize their clocks three times a day.
Additionally, the first descriptions of sunspots were accomplished here.
– photo by Mitch Waxman
There are three telescopic domes in this building, and it's still a working observatory. For a full description of the building's history and the technical specifications of its equipment, click this link.
The neighborhood which hosts the observatory is called Perry North, and the actual building is housed within Riverview Park. Perry North has a terrific number of late 19th and early 20th century homes, many of which look like mansions – to the eyes of this bloke from Brooklyn.
– photo by Mitch Waxman
Complaining about how phone based navigational software works is going to be an entirely new topic to bitch about here, and despite there being a properly graded secondary arterial road which goes directly to Riverview Park from one of the primary interstate routes that run through Pittsburgh, the "Waze" people instead set me upon a path that involved driving through residential local streets which were set against the terrain at 20+ degree angles, ones which also demanded switch back turns where the car would need to negotiate 90-120 degree turns in alarmingly short distances and at speed.
This is truly annoying. I don't mind a challenging drive every now and then, but it can't be "the more efficient route" if you're making a 120 degree left turn while the car is sitting at a 25 degree angle with its nose up in the air. Grrr. I fear that Waze will drive me off a cliff.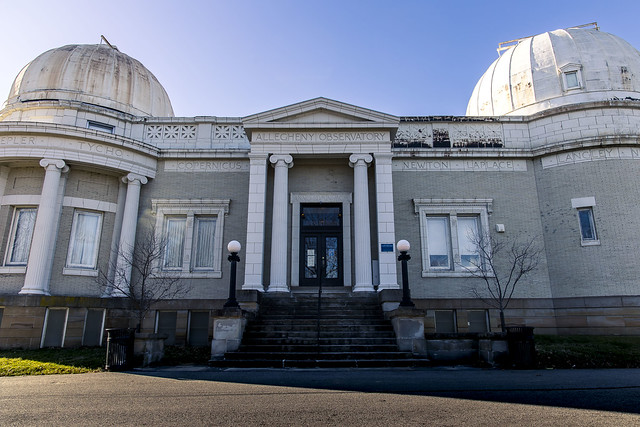 – photo by Mitch Waxman
There were deer running around up here at the Observatory. There's also a dog park, and I chatted with a guy who was setting up a long skateboard getting ready to slalom the mile and half back down to the relatively flat land at the bottom of the prominence.
The views of the city from up there were all fairly occluded by trees, which was a bit disappointing.
– photo by Mitch Waxman
My day was just getting started, I would mention. I hadn't discovered much time to wave the camera about quite yet, what with the unpacking of a few essentials in the boxes we drove out personally, and setting up the house with furniture and such. These shots are from the 5th of December. I'd be heading back to NYC on the 8th to deal with some "ending" business and deal with the movers, so the 5th was all I'd be getting this particular interval as far as exploring.
On my way home to the new HQ in Dormont, however, I had to stop and get a few shots from a certain place. It was, after all, a wonderful day in the neighborhood.
---
"follow" me on Twitter- @newtownpentacle
Buy a book!
"In the Shadows at Newtown Creek," an 88 page softcover 8.5×11 magazine format photo book by Mitch Waxman, is now on sale at blurb.com for $30.
One Response