quainter levels
It's Anosmia Awareness Day, in these United States and the United Kingdom.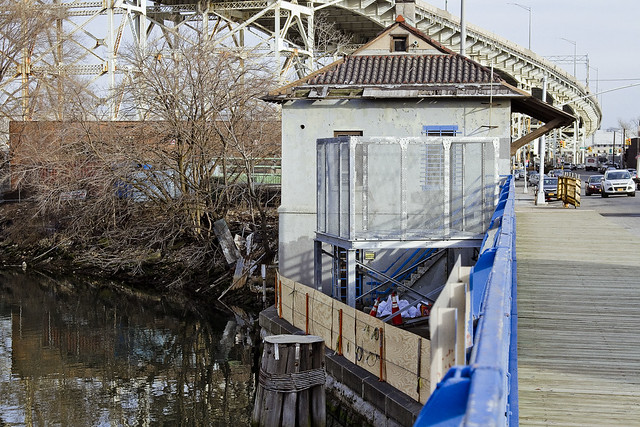 – photo by Mitch Waxman
For the curious – Anosmia is a loss of the sense of smell, which is apparently quite debilitating. One of my old buddies has always wondered about what smell "blindness" is called, and he's been using "smeaf" for many years so I'm glad to report that there is – in fact – an actual term for it. Seriously though, imagine not being to taste your food or discern a gas leak or smoke – Anosmia is no joke and as serious as blindness or deafness. Of course, given the amount of time I spend at a certain superfund site which defines the currently undefended border of Brooklyn and Queens, Anosmia might be something of a boon. The loss of sensory data I'm currently experiencing is actually centered around touch, and a general numbness seems to be spreading across my skinvelope and ballooning out between my ears.
Pictured above is the fabulous Borden Avenue Bridge, a retractile wonder that the children of Queens would marvel at, would they elect to visit the Dutch Kills Tributary of the lugubrious Newtown Creek.
– photo by Mitch Waxman
Retractile means, incidentally, that the movable section of the roadway retreats away from its foundational piers, opening a spot for maritime traffic to pass through. In the shot above, you can see the spot which accepts the retractile section. There's locomotive style rails running across the spot, which carry the truss. Famously, there's only two retractile bridges in NYC, with the other one (which is decidedly smaller in scale and older in design) spanning the Gowanus Canal at Caroll Street. I guess that today is vocabulary day, at this – your Newtown Pentacle.
– photo by Mitch Waxman
The section of the Long Island Expressway seen above is referred to as the Queens Midtown Expressway by officialdom, and it's some 106 feet up from the street to its road deck. It opened in 1939, and feeds it's traffic flow into the nearby Queens Midtown Tunnel (also 1939) leading to Manhattan. A conceit often I've often used at spots like this, all around NYC, is to call this "The House of Moses" for NYC's master builder Robert Moses. The tunnel and QME weren't projects he started, but they are projects that Moses bullied his way into and took over – as a note. Robert Caro didn't call Moses the "Power Broker" just to be snarky.
– photo by Mitch Waxman
One of the reasons that I hate all of you equally is exemplified by this all too common site at the littoral edge of Dutch Kills. I'm the guy who wads up personally produced garbage in his pockets and carries it until encountering a proper trash receptacle, so realize that this is a pet peeve of mine – but what the hell is wrong with all of you? You don't just discard things like cups and food wrappers or plastic bags out of your car window as you move along, do you? Quite obviously, many do. I see this every where I go in NY harbor.
How about you? Shame on all of us for this.
– photo by Mitch Waxman
There seems to be some signs of life at this long vacant property along Dutch Kills – the former Irving Iron Works factory. Part of their site has had a cinder block wall erected. Notice that it was built from another installation of blocks which had been literally graffiti'd and that now it's just a hodge podge of random colors. That's kind of cool actually.
I'll keep an eye out.
---
"follow" me on Twitter- @newtownpentacle
One Response