Archive for April 1st, 2019
Some new gear on display in today's post.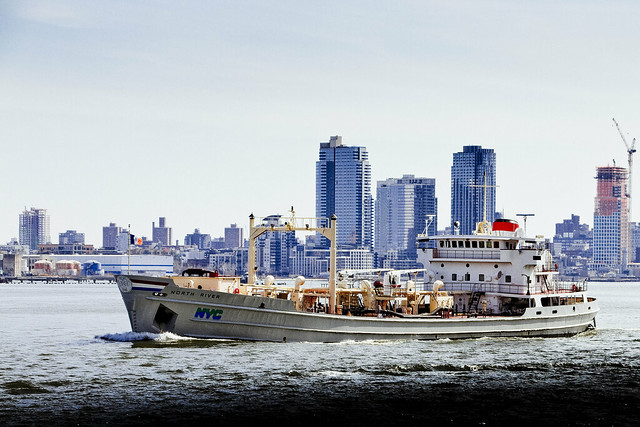 – photo by Mitch Waxman
One is always hunting around on camera oriented websites for new bits of gear, lenses, gew gaws, doohickeys, and or doodads which might make my life a bit more interesting as I wander around the City of Greater New York with a camera. There's a couple of Chinese camera sites that I keep an eye on, which are really hit and miss on the "get what you pay for" front, but recently I decided to take a chance on a manual focus lens which promised a built in series of polarizing filters that would produce an extraordinary result. This is a 65mm prime, with a decidedly small aperture (f4-11) range, but it's optical formula and clever mechanical plan is designed to allow the user to see both above and below the surface of water bodies at the same time. It's offered by a company I never heard of before – the Mumma Cei, Xi, & Akkuseh (MCXA) group and is manufactured by something called the Szeihaloud Cooperative. Google translate tells me that Szeihaloud means "great maker" or something, and that their glass factory is located in the dry regions of northwest China. That's odd, normally electronics gear comes from the coastal cities of the south, but nothing ventured nothing gained. MCXA's site claims that there's something special in the mineralogy of the sands of the region they're located in which lends unique qualities to their ground glass products. At least that's what I think they're saying… Chinese website version of English, if y'know what I'm saying…
What the heck, it was only a hundred bucks. I'm glad that I ordered the thing.
– photo by Mitch Waxman
First – MCXA's 65mm lens, which they call the X-51, is an ergonomic nightmare. It's got all these jangly little knobs on it for independently manipulating the eight linear polarizer filters housed within the barrel. Said barrel is plastic, and when I unwrapped my little care package from the Silk Road region the interior of the box actually had some kind of orange powdery substance which smelled vaguely of cinnamon mixed with saffron inside of it, a scent that made me a bit woozy. The lens was packed in a sealed plastic bag so that wasn't too much of an issue. The glass itself was nice and sharp, which was surprising, once I got it past f 5.6. It's pretty heavy, and manual focus is a chore, especially with those eight knobs arrayed around the focus ring.
The startling part was that the thing actually worked as promised, allowing me to photograph both the surface details of the waters of the East River (pictured above) and provided visual egress to that which lurks below while I was riding on a NYC Ferry last week. I look forward to putting the thing on a tripod and seeing what can be revealed at Newtown Creek.
Of course, the lens and camera were set for a daylight exposure formula, so sub surface features were darkened.
– photo by Mitch Waxman
MCXA has another bizarre lens I'm now interested in, which promises Flouroscope like qualities, allowing you to peer "under the surface" and revealing the internal structures of both animals and plants. They call it the "God Emperor of lenses," or at least that's what Google Translate says the series of Chinese characters on its offer page means. I tell you, the Chinese century looks like it's going to be a lot of fun. As is my habit, new glass and other camera gear is typically acquired during the tax filing season of the early spring.
I usually like to add a new lens to my kit every April, and especially so on April the 1st.
---
"follow" me on Twitter- @newtownpentacle
Buy a book!
"In the Shadows at Newtown Creek," an 88 page softcover 8.5×11 magazine format photo book by Mitch Waxman, is now on sale at blurb.com for $30.